Functionality is the number one reason why camper trailers were born. Now, with all the different camper types available in the market, which of these are made to fit you, your family, and your needs?
When scouting campers to purchase, you must know which of them will provide you with the best functions according to your need and preference. Here's to assess these different types of campers, so you'd know where you're spending your hard-earned money.
Travel Trailer
Travel trailers are made to ease your outdoor vacations, may it be with a family or just you and your partner. Travel trailers have a lot of floor plan variations to choose from and are very customizable. Most of them are complete with fully-equipped kitchen, bathroom and water tanks.
These trailers are towed by small to mid-range SUVs and can be left in a campsite during a trip. If you prefer this camper type, make sure that your SUV or truck is capable to tow the full weight of it.
Relate: Travel trailer maintenance checklist
Pop Up Camper
Lightweight and very affordable, the Pop Up camper can be folded down to fit in your garage so you don't have to worry about storage fees. This camper type is perfect for owners who love the wild outdoors and can put up with minimal convenience when travelling.
The downside of it being lightweight and compact, the Pop Up camper only has a limited space for your needs to fit in.
Hybrid Trailer
Now a cross between the first two types mentioned were brought into existence by the Hybrid Trailer. It has half the function of a Travel Trailer and half the Pop Up Camper. It gives solution to the too limited space of the Pop Up and the heavy weight of the Travel Trailer, while keeping each other's best functions present.
With a Hybrid Trailer, you'll enjoy the best of both worlds: the tent-like camping, plus the convenience of having a shower and bath area inside.
Fifth-Wheel
Luxury of space is one function a Fifth Wheel takes pride of. If you're more into developing spaces of your camper, then this one's for you. There will be plenty of room for the living area, shower and bathrooms, bedrooms, island and counter spaces, and even spaces for wardrobes. Its size is for an entire family who loves to live a life of travel.
Related: Myths & Truths: Living In A 5th Wheel Full Time
Truck Camper
If you don't really like the bulk of the trailers, but still need its functions, why don't you turn your truck into a camper? Truck Camper is a type that keeps your camper space limited to fit in any campsite. It's also complete with washrooms, shower, kitchen and bedroom, you won't have to worry about inconvenience.
However, unlike the other trailers, you cannot leave this on a campsite as it's attached to your truck.
Teardrop Trailer
Famous for its shape, the Teardrop Trailers are very compact and lightweight that it can be towed by light vehicles. It can be installed with kitchen, bedroom, and bathroom but expect that space will be limited for storage.
Related: Build Your Own Teardrop Camper: Why and How?
Toy Hauler
This type of camper is highly convertible. Toy Haulers can either be used to transport 'toys' like motorcycles and other vehicles with you during your trip, or can be customized like a Travel Trailer. If you need it more as a home, you can work on customizing its big space into what you prefer.
You'll be carrying a vehicle with other vehicles inside so expect that this will be heavier.
Class C Motorhomes
These type of motorhomes are like Truck Campers, only with complete facilities and bigger spaces. Class C Motorhomes are motorized RVs that can be customized with floor plans and layouts to satisfy any owners' needs.
Weight restrictions though must be watched to avoid overloading, as this RV can only hold so much.
Class B Motorhomes
On the outside, Class B Motorhomes simply look like an oversized van. Inside are functional nooks, spaces and corners for the luxury of comfort. It can be equipped with a small kitchen, restroom and a bed.
The best thing is that because it's compact, you can be allowed at any campsite. Storage will never be a problem as you can fit it inside your garage.
Related: What Is A Class B RV?
Class A Gas and Diesel Motorhomes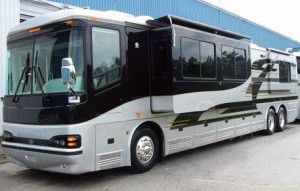 The Class A Motorhomes style offers a luxurious treat to its travelling owners. It has a large windshield view with elevated seating, giving you the best views. It is also identified in two subtypes:
Class A Gas Motorhomes
This type offers luxury with a more affordable fee. You can fit in a lot of convenience inside to resemble a traditional home. However, as it gets loaded, its engine may become a little noisy when in motion as it's located in front.
Class A Diesel Motorhomes
Also known as a Diesel Pusher with all the luxury of an A Class, and less of the noise. It is built to give the riders a smooth and easy ride even when riding it to the mountains. It is the most luxurious among all the motorhomes types.
Related: What Is A Class A Motorhome, And Would You Want One?
Now that you're officially equipped in finding the right type of camper trailer to purchase, you should also not be missing other details. See if their parts are good to withstand long travels and rough rides, especially the RV windows.
If you need help in that department, you can always count on the expertise of Peninsula Glass. See our products, ask for a quotation, or contact us so we can help you out.