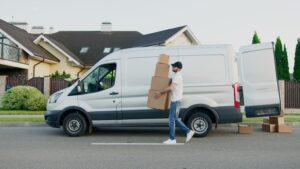 If you have a van and looking for a new way to use your vehicle, you may be wondering how to start a sprinter van business. It can be a great way to make money while enjoying the flexibility and convenience of traveling in your vehicle. You'll need to do a few things before you can hit the road, but with planning and preparation, you can be up and running in no time.
Here's what you need to know about starting a sprinter van business.
1. Choose a business
Choose the business you want to run. Many options are available, so choosing something that aligns with your interests and skills is essential. Do some research on the different types of businesses that can be run out of a Sprinter van, and decide which one is right for you.
2. Create a Business Plan
Once you've chosen a business model, create a business plan outlining your goals, strategies, and financial projections. It will help give you a roadmap for launching and growing your business. It will also come in handy when seeking funding or investors.
3. Get the necessary licenses and permits
You may need to obtain specific licenses and permits depending on your business type. Make sure to research and get any necessary paperwork before starting your business.
4. Set up a professional website
With so much online business, having a professional website is crucial for promoting your Sprinter van business. Ensure to include information about your services and how customers can book or contact you.
5. Market and advertise your business
Once you have everything ready to go, it's time to start marketing and advertising your business. Utilize social media, local events, and word of mouth to spread the word about your Sprinter van business.
Starting a Sprinter van business can be a fun and rewarding way to make money while utilizing your vehicle. You'll be ready to hit the road and grow your business with some planning and preparation.
What business can I start with a sprinter van?
Starting a business with a sprinter van can offer numerous opportunities in industries.
Here are a few businesses that you can start with sprinter van:
1. Delivery service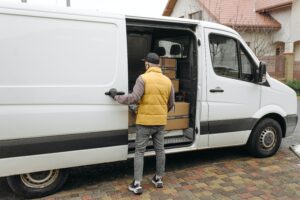 Delivery service is becoming increasingly popular as consumers value convenience and speed. Starting a delivery service with the van is an excellent option for entrepreneurs looking to break into this market.
If you are considering delivery service for your sprinter van business, you must first identify what type of delivery you should cater. Will you be delivering groceries, packages, or something else entirely? It is vital to have a clear niche to attract and retain customers.
Do not forget to secure the proper licenses and insurance for your business. It will ensure that you and your customers are protected during deliveries.
Make sure to market your delivery service effectively. Offer competitive pricing and consider partnering with local businesses to offer their products for delivery. Utilize social media and online platforms to reach a larger audience.
Starting a delivery service with a sprinter van can be a successful venture if you have a clear focus, secure the necessary licenses and insurance, and market effectively to attract customers.
2. Event transportation
Rent out your sprinter van for events such as weddings, concerts, and parties to shuttle guests from one location to another. While the sprinter van may not hold as many passengers as a traditional party bus, it can still provide a luxurious and convenient transportation option for events.
To start this business, research what other event transportation companies are charging for similar services in your area and set competitive prices. Be sure to also invest in insurance coverage and proper licensing.
Marketing your services to event planners and individuals hosting events can help attract potential clients. Networking with venues and other vendors in the event industry can also lead to referral business. Additionally, offering special packages or discounts for repeat customers can help foster long-term relationships and grow your client base.
3. Catering service
Outfit your sprinter van with a kitchen and use it as a mobile catering business, perfect for events or even just serving lunch to offices in the area. However, remember that you may need to adhere to specific regulations and obtain permits for operating a mobile food business.
It's also essential to assess the size and capacity of your sprinter van in terms of cooking equipment, storage space, and serving capabilities. Can you comfortably prepare and serve food for significant events, or is your sprinter van better suited for smaller, more intimate gatherings?
Starting a catering business with a sprinter van can be successful if done correctly. Just make sure to do your research and plan accordingly before diving in.
4. Cleaning services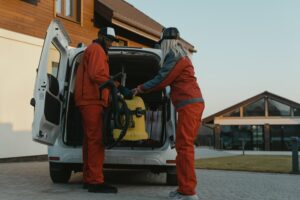 Stock your sprinter van with cleaning supplies and offer mobile cleaning services for homes, offices, or even vehicles. Starting a cleaning business with a sprinter van allows you to save on overhead costs and gives you the flexibility to travel to your clients' locations.
However, this type of business requires physical labor and may require additional licensing or certifications depending on the services offered. It is also important to consider insurance for both yourself and your equipment.
5. Mobile retail
Many successful mobile retail companies use sprinter vans as their primary mode of transportation and sales. Starting a mobile retail business with a sprinter van can be successful. However, it is essential to note that there are specific considerations before diving into this type of venture.
First, ensure that the sprinter van is outfitted correctly for retail purposes. It may include installing shelves and displays or installing an electronic payment system. It is also vital to ensure that the sprinter van meets all necessary health and safety regulations, particularly if you plan on serving food or drinks.
Additionally, consider where and how you will advertise your mobile retail business. Will you primarily serve a specific geographic area or travel to different events and festivals? Social media and word of mouth can help spread awareness of your business.
How much money can you make with a sprinter van?
The amount of money you can make with a sprinter van depends on various factors, including the type of business or services you offer, your pricing strategy, and the demand for those offerings in your area.
However, sprinter vans can be pretty profitable because they offer a large amount of space and versatility. Many businesses use sprinter vans for delivery services, event transportation, and even mobile retail rooms or offices.
If you are offering a specialized service or product, you may be able to charge premium rates. Alternatively, if you focus on volume and efficiency, you may be able to make a steady income by offering competitive rates for services such as delivery or transportation.
Sprinter Van Maintenance
It is also essential to consider the cost of maintaining and operating the sprinter van and any necessary insurance and licensing. When it comes to your van, you want to make sure that you're getting the best. That's why we offer Sprinter Van Windows.
Our windows are made from the highest quality materials and are guaranteed to protect your belongings in case of an accident. Our products are built with safety in mind, so you can rest assured knowing that our vans will be protected from any damage or breakage that may occur due to an accident or natural disaster.
A sprinter van can be a profitable addition to your business with proper planning and strategy.
If you already have the vehicle and want to learn how to start your own sprinter van business, reach out to RV Window to help you with van conversion and enhance the appearance of your van, making it ready for a new venture.
Contact RV Windows today!