Overview of Our RV Window Products
---
The Motion Windows Advantage
Peninsula Glass Company has been in business since 1975 and is family-owned. In 2005, we received the prestigious Excellence in Family Business Award from Oregon State University.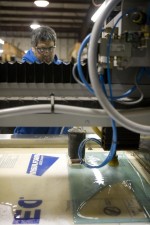 Much more than just a glass shop, we have grown a national presence in tempered glass and high temperature glass sales through www.onedayglass.com, service the retro auto glass market www.sandersreproglass.com and continue to show strong growth in the über-competitive marketplaces of boat, recreational vehicle, commercial and specialty vehicle window fabrication.
Our manufacturing facility boasts a fully integrated approach to window fabrication. The heart of the plant is a unique tempering furnace. We also have a precision waterjet cutting system, an extensive array of glass processing equipment, insulated unit production, extrusion bending and forming machines, and the best craftsmen in the business.
Our experienced engineering team consistently provides innovative and practical solutions for our customer's window and glass requirements. We are large enough to serve your needs, but not so large that we have lost the "personal touch" when helping our customers.