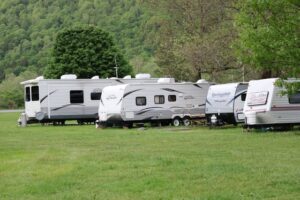 Living in a 5th wheel full time. RV living. Life on the road. This concept has been so endlessly romanticized. They always say that living on the road full-time is the dream. You have freedom. You have control of your time. But what they don't tell you is the gripping reality of choosing this lifestyle.
So if you want to consider living in a 5th wheel full time you have to know what really happens on a daily basis. In turn, you'll be able to better prepare yourself for the massive shift. So here are several myths and truths of full-time living on the road, for those who want to get serious about it.
Related: How Much Does Full-Time RV Living Cost?
Truth: Choosing The Right Travel Partner Is Critical
Never underestimate the power of companionship, especially when embarking on new adventures like RV living for beginners. Get a partner who will always stay by your side for the entire journey. Because in a life where everything else is moving, you could use some stability. And it doesn't have to be a human, either! You can always go with a dog, cat, or any other animal friend you would enjoy. The main point is companionship. You need to feed your social meter for it to be a rewarding experience.
Myth: Residential Appliances Have No Place In An RV
The best thing about living in a 5th wheel full time is that you never have to leave the comforts of a static home. So if you think you have to skimp on essentials such as the stove or a fridge, you don't need to worry. A good-sized RV will have enough room for you to install these appliances, if they are unfurnished. But most of the time, RV makers build their vehicles with full-sized appliances pre-installed.
Truth: You'll Have To Discard Most Of Your Possessions
RVs nowadays have a lot of space. In truth, this is why a lot of people are considering living in them full time. But the hard reality is, they still don't have as much space as the average home. Heck, even a small apartment is still bigger than an RV. So in short, you'll have to let go of a lot of your possessions. You'll need to learn to discern which ones you actually need and which ones you don't. Otherwise, you'll be dealing with unnecessary clutter on the road, often far from civilization where you can stash them away. It's inevitable, and is among the first hard truths you'll encounter.
Related: 11 Surprisingly Easy RV Organization Ideas
Myth: RVing Is An Extremely Carefree Lifestyle
In some ways, this is true. You won't have to worry about power and water bills. Annoying neighbors knocking at your door. And you also don't need to worry about rent! But that is only the tip of the iceberg. Remember that since you're mostly taking care of yourself, you need to be able to do a lot of the repair and maintenance of your RV. This also involves ickier things like sanitation and waste management, since you don't have any garbage collectors to pick up your trash. This is the price you pay for living an independent lifestyle, and to a lot of people, it's actually worth it.
Truth: Not Every RV Is Perfect
RVs are like most vehicles. They're not one-size-fits-all, so you can't buy the first big one you like and simply drive away with it. You need to consider closely what a particular RV model has and what it can do for you to make your life on the road easier. For instance, comfort and privacy are two of the most important things in a limited living space. If an RV you like ticks those two boxes immediately, then you have a good one to start. So make sure to choose a vehicle that fits your needs, especially since you'll be living in it.
Related: Different Types of RV (Infographic)
Myth: Only Retirees Can Enjoy Living In An RV
This is a blatant myth if we've ever seen one. Any person from any walk of life can enjoy living in an RV. Period. This is a myth that comes from a misconception thinking retirees can enjoy it because they have all the time in the world now. They don't have to work anymore. But even younger, working-class folks can still go living in a fifth-wheel because the modern job market has drastically changed. Nowadays, you can easily find good-paying work online. That is more than enough to sustain van life without any compromises.
Truth: You Need To Set Up Mail
And by "mail," we don't need email. We mean actual snail mail. Another truth of living the RV life means that you won't always stay online. Mobile internet costs a pretty penny and every single second you spend on the internet is golden. So the only way to keep yourself connected to the world 24/7 is by old school mail. This is where mail-forwarding services come in to save the day. All you have to do is sign up, pay a recurring fee, and you'll get to receive all your mail via the service provider instead of your old address. You can then call them to deliver the mail to a specific location wherever you may be. This will come in handy when you have bills and taxes to pay.
Related: Tips & Tricks: Making RV Living Bearable During Winter