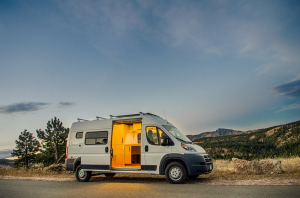 If you're a rookie in the RV community and you've only just begun researching these vehicles, chances are you've already seen a Class B RV. Compared to their often larger or more specialized counterparts (Class A and C), Class Bs are quite popular with a lot of people. But why exactly? What is a Class B RV and why would you want it as a motorhome enthusiast?
In this post, you will know the characteristics that make a Class B RV. You'll also learn about several reasons why you'd want it instead of anything else. So without further ado, let's dive in!
The Basics
Class B motorhomes tend to be smaller, more streamlined, and ready to drive out of the dealership. There are no extra frills and thrills with this type of motorhome, which makes it perfect for people who "just want something that works." They're easier to maneuver than their larger counterparts, and are more fuel efficient as well. As for living space, they're better suited for smaller groups of people, like typical families.
Most Class B RVs are pretty basic. You'll get a small yet functional kitchen, some storage space, and a good-sized sleeping area. But there are some options that offer luxurious amenities commonly seen in larger RVs as well. These can include things such as massive galley kitchens, full-size beds, and even restrooms. Their relatively smaller size also makes them easy enough to drive around as your daily vehicle.
Versatility All Around
Learning what is a Class B RV starts and ends with one word: versatility. They're like the Swiss Army knives of motorhomes because they can do almost anything. Due to their smaller size and maneuverability, you can easily be driving on city streets one minute; the next, you'll be cruising smoothly out in the wilderness. They feel at home both in urban and outdoor settings.
Class B RVs are also known by another name: Camper van. If you try to take a specific type of van (i.e. a Mercedes Benz Metris) and convert it into a motorhome, you'll get a camper van as a result. This versatility is what makes Class Bs extremely popular with full-time travelers. Only take a look at Instagram and other social media posts pertaining to RVs, and you'll see Class B motorhomes all over your feed.
What Makes Them Good?
Well, you already know about the basics: top-notch maneuverability and space without doing too much. But there are far more benefits than just these. Here are the most important ones:
Excellent fuel mileage. Motorhomes are quite notorious for sub-par fuel mileage because they're heavier than the average car. You have all your living essentials (i.e. beds, couches, food and water supplies, and camping gear) all stashed up and adding up to the vehicle's weight. And the heavier the vehicle, the harder the engine has to work to drive it around. The harder the engine works, the more fuel it needs.

Class B RVs, on the other hand, are a lot more fuel-efficient because, again, due to their more compact size. Sometimes they can even get double to triple the mileage of an average RV!
Minimal set-up time. When you're on the road, you would want to have all the time to explore the wilderness. You would not want to spend 30 minutes to an hour setting your RV up before you go trekking. This is where Class B RVs shine the most.

Here's an example. When you get to a park or campsite, you can easily park the RV like a normal car. After parking, you can just take what you need, and go on your trek!

Also, a lot of Class Bs feature all-in-one panels that control all essential systems in the vehicle. So like a lot of modern electronics, a Class B RV is basically "plug and play." All you need to do is connect, press, and go. If that's not convenient, then nothing else is.
Related: RV Living for Beginners: Tips & Tricks to Get Started
When To Buy
If you're looking to buy an RV , try not to buy one at the beginning of the RVing season which is late spring, or end of May. The reason is simple: this is when everyone would be buying an RV. You'll have trouble finding what you want and need. And if you do manage to find one, you might have to pay a lot more than you'd be comfortable with.
Perhaps your best choice is to try to get an RV during the end of RV season. This is when dealers will tend to want to sell their extra stock of unsold vehicles. To clear their inventories, they're likely to drop their prices. But buying at the end of the season doesn't make much sense, because as much as possible you want it to be in-season.
Here's the thing, though. If you want to buy a Class B RV and you have the resources for it, go get one. Seasons don't always matter when all you want is to get your own motorhome and go out on long road trips with your loved ones, right? What matters in the end is that you have fun with your purchase.
Outfitting Your Class B RV
Once you get your Class B RV, it also needs a few upgrades for a truly amazing campervan experience. Sure you can get the typical fix-ups: more storage, foldable beds, and the like. But never, ever forget about the RV windows! On the road, you'll be at the mercy of the elements, and you'll need something durable to keep your essentials inside protected, while also giving you a clear view of the beauty of the wilderness.
And that's where we at Peninsula Glass come in. Talk to us today!