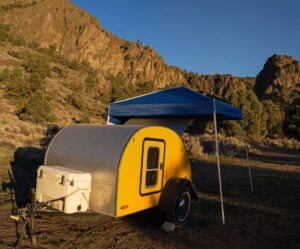 RV living is too expensive, but do you want to travel with the same luxury? Then, you might want to build your own teardrop camper. A teardrop trailer is a compact travel trailer often used as a sleeping and cooking space by cross-country travelers.
Teardrop campers are making a comeback partly because modern cars are faster and more powerful. Now, most people prefer to build one themselves because, aside from being cheaper, customized teardrop campers allow travelers to have an adventure in their desired comfort and style.
BENEFITS OF BUILDING A TEARDROP CAMPER
Teardrop campers are available for sale in the market, but people still prefer to build their own. So, should you?
Here are a few benefits to help you decide:
A teardrop camper is already cheaper than RVs today, but you should know that pre-made teardrop campers may still be expensive. The price range of small teardrop campers is around $5,000 to $10,000, the medium-sized costs around $10,000 to $15,000, and the large ones that can fit up to 4 people cost more than that.
Building one from scratch will cost around $2,500 to $3,000, which is way cheaper than buying one. Plus, there's the opportunity of designing it however you want.
THEY'RE ALSO CHEAP TO USE
Considering how lightweight teardrop campers are, they're easy to tow even by smaller cars, which ultimately makes them fuel-efficient.
You also have complete control over what to install inside your camper. So, you can utilize energy-efficient tools like solar panels instead of gas-powered generators. Thus, help you save money on gas, not to mention it is also safe for the environment.
THEY PROVIDE BETTER COMFORT AND SAFETY
With a teardrop camper, you can save time from setting up tents and other camping equipment and get right into the adventure. Additionally, you can sleep better and keep yourself away from unwanted elements like insects and woodland creatures on the camping grounds.
BUILDING A TEARDROP CAMPER: WHERE TO BEGIN?
If you're wondering how to build a teardrop camper, check out this guide below to get you started:
First, you need to decide on the size of your trailer. The standard measurement of teardrop campers usually ranges from 4x6ft to 5x8ft.
You'll need a steel frame for the trailer where you can install the wheels and signal lights.
For the base, plywood planks are the best choice. In addition, you can add insulation to your foundation to keep your occupants warm.
For the sides, you'll need an inner wall with holes allotted for wiring and top that with an outer wall. These walls are usually attached to the base using glue and the tongue and groove method. Both walls will have holes for the window, door, and fenders.
Check out Peninsula Glass' Motion Windows for high-quality custom teardrop camper windows available in different designs and materials.
The galley is that space you allow at the back of your teardrop camper where the kitchen area and storage are. The cabinets and platforms in the galley are usually built separately and then later on installed.
Finally, cover your galley and your whole teardrop camper with roof spars, and install insulations on top. Above that, you must add an outer layer for protection and for that smooth finish.
TEARDROP CAMPER MUST-HAVES
How many shelves do you want or how big your mattress will be is entirely up to you. The beauty of making teardrop campers is that you have total control in terms of equipment and design.
While you have the liberty to decide about the overall appearance of your teardrop camper, there are still a few teardrop camper must-haves that you may want to add to your checklist:
Awnings are perfect for sun protection while, for example, you're cooking in the galley. They are also great for giving temporary shelters if you're experiencing light rain on the camping ground.
Roof racks are advisable if you're planning to bring big adventure equipment like bicycles, kayaks, or paddleboards. Adding this section to your teardrop camper will help you carry these items with ease. They can also provide extra storage on top of your camper.
These are among the best teardrop camper must-haves today. Leveling ramps help you keep your camper leveled, so you're safer and more comfortable while resting. No longer will you worry about driving on boards or blocks just to get that perfect level.
Solar panels will always be a great environmentally-friendly source of energy while camping. There are flexible solar panels available in the market today that fit the teardrop camper's curved roof.
CONCLUSION
It is a cost-efficient solution to traveling in your own aesthetic when you build your own teardrop camper, and it also means camping in the comfort you preferred. All you need is the basics and an imaginative mind to build the perfect teardrop camper.
For durable and stylish custom teardrop camper windows, check out Peninsula Glass' Motion Windows today. They offer customized windows available in different designs and materials.
Get a free quotation today!