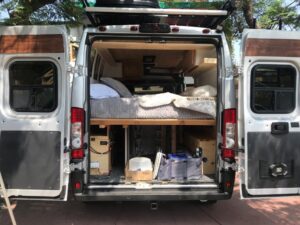 Van camping – this term doesn't really ring well today because of the raging pandemic, but it's still something a lot of people do–and want to do. Well, who doesn't? There is indeed a certain level of appeal that comes with living on the road. You're free to go explore and experience the wonders of the world; which you would otherwise only experience on a screen.
But van camping isn't all sunshine and rainbows. And if you want to partake in this kind of lifestyle, you have to be ready for everything. You're far away from the comforts of living in a typical home, so you can't keep looking at this way of life through rose-colored glasses. To help you do just that, here are the things that they don't tell you about van life.
Related: Best Smartphone RV Apps For The Camper Life
1. Instagram "Filters"
When you see van campers' photos in amazing locations, it's easy to just say, "that's the dream life." But here's what those social media posts don't tell you. Wherever they parked to take those photos, they probably had to pay for that spot. The nicer campsites tend to be pricey with admission fees around $25 to $75 a night. While it's actually possible to camp for free, however, these spots are often only accessible via ungraded, out of the way roads that would take you out of your intended route.
2. Parking Spots Aren't Always Pretty
You hear a lot about how beautiful life in a campervan is, but that's only if you do pick the right spots. The thing is, you don't always get to choose. Most of the time, you'll have to slum it in random parking lots. And these spots aren't always pretty enough for the 'Gram. Sometimes they're going to be Walmart parking lots, and sometimes they will be vacant lots.
3. Finding Overnight Van Camping Spots Are Tough
Living on the road, you can't always be on the move. You'll still need to find a place to stay for the night. Outside of renting an inn or motel room, you'll need to find as many free camping sites as you can. Ordinarily, you will find free campsites around 5 out of 10 times. But if you really need to penny-pinch, camping on USFS (United States Forest Service) and BLM (Bureau of Land Management) owned land is free.
4. Bugs, Bugs, And Nothing But Bugs
You're outdoors, so accept this one truth: there are going to be bugs. Lots of them. Not all of them are nasty and disease-carrying, but they will be annoying. For them to stop bothering you, you need to keep them away with these quick tips.
First and most important: keep your area clean! Flies and bees are attracted to soda cans and rotting food, and ants love food scraps. Clean up every time and you'll be keeping these critters at bay.

A lot of flying insects get attracted to fragrances such as cologne, and even particularly fragrant makeup. Don't use these when camping out or trekking as much as possible. And if you need deodorant, use an unscented one.

Limit bright lights in your campsite to keep from attracting gnats and potentially dengue-bearing mosquitoes. This also applies to handheld light sources such as lanterns. So when you use one, set it away from common areas. And if you want something a lot more effective, go for common insect repellent and citronella candles.
Related: RV Living 101: 10 Must-Have Camper Van Accessories
5. You're Always Packing And Cleaning Up
On a normal day on the road, it doesn't take much to get the van messy. It doesn't matter what you do: stashing and taking out your tech, eating, or anything. As such, you will be constantly rearranging things and cleaning up. This is one of the less glamorous parts of van life, but a critical part nonetheless.
6. Sleep Is Treasure
It can be very hard to get good sleep when you're on the road. But this doesn't mean you can't sleep great outdoors! To do so, your best bet is getting a sleeping pad instead of a simple cot or mattress. These pads are quite cheap while also adding a layer of insulation that will protect you from the chilly ground. So when you get up in the morning, you will be refreshed and more than ready to explore.
Your RV Needs Great Windows!
It's so easy to overlook such an integral part of your van camping experience: van windows. They are your gateways to looking out at the wonders of nature while staying cozy in your camper. And they're also going to protect you from the elements. So you absolutely need windows that can withstand punishment while maintaining perfect visibility.
We at Peninsula Glass can help you with that! Our friendly staff are more than happy to assist you with your needs. We look forward to hearing from you!