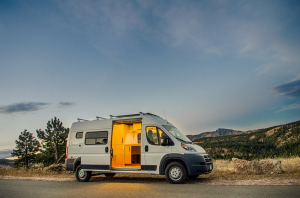 Do you think the van life is to your liking, or are you considering it for now? This unassuming but handy Ford Transit is a popular vehicle for folks who want to try van living full-time. The van life lifestyle is for those who can't seem to enjoy life at a standstill. They want to explore and see the world and its wonders. And living in a van does have its perks.
Is Van Living For Me?
What is it all about exactly? In truth, this lifestyle doesn't start and end at the choice of a camper vehicle like the Ford Transit. Van life requires you to consider a lot of things beforehand. Call it soul searching, if you will.
When you see a vehicle like the Ford Transit Connect, van life may immediately come to mind or things needed such as Ford Transit Van Aftermarket Conversion Windows. It is what the name says: it's for people who have a passion to roam the world on their own accord. If you live in a typical house, would you be able to do that? Nope! Consider van living enthusiasts as modern-day nomads; going wherever their campers take them.
There are many questions you need to ask yourself before you can commit to this lifestyle. Here are a few to get you started.
Question: Am I fine with dirt?
Answer: You're going to live on the road, so prepare to get dirty. You will encounter dust storms, mud, mud, and some more mud. Also, did we mention sand? Even for the cleanest of clean freaks, living on the road means there would be dirt in every nook and cranny of your van. Even your custom van windows won't keep everything out. But, if you have a good sense of hygiene, you don't have to worry about sickness from all the dirt and grime of life on the road.
Question: Are you willing to try out different ways to make money?
Answer: If you're going to live on the road, you won't be able to keep a normal 9 to 5 job. With the internet at your fingertips, you can find a freelancing job that's right for you. Write, design websites, do some digital marketing-there are plenty of options to choose from. It only depends on which ones you'd be comfortable doing with.
Related: How Much Does Full-Time RV Living Cost?
Question: Do you love meeting new people?
Answer: If you do, keeping a basic 9 to 5 job and a 30-year mortgage isn't the way to go. Van life allows you to go to places with all kinds of interesting people. Every single place you visit has its own history and characters that you can indulge in. If that's what you want most, then living on the road is perfect for you.
Related: RV Living 101: 10 Must-Have Camper Van Accessories
Living the van life can allow unlimited bonfires under the stars and promise an almost never-ending adventure. The world is out there, and it's waiting for you to discover its wonders. For those looking to enjoy the modern nomadic lifestyle, make sure you're ready for the van life.
You're at the mercy of the elements, so be ready to protect your new mobile home. Things like durable Ford transit van windows are a good way to go! Our pros at Peninsula Glass can help you with your van window needs.