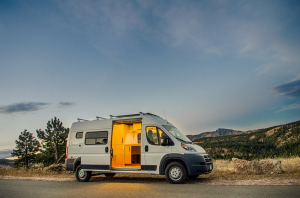 If you're looking for camper van ideas on this side of the internet, you're in a good place. Because in this guide, you will learn the most important bits of planning the interior layout of your camper. Why? Because the layout itself will have a huge impact on how comfortable the vehicle will be, as well as how your on-board storage options will work out.
Starting off, there's no doubt that the type of vehicle you own will impact what you can accomplish with the space a significant amount. But before you go out to buy the vehicle and plan the interior, you need to ask yourself a few important questions.
Will I be working while camping? If you are, then you're probably working while sitting down. Sometimes, for hours on end. It doesn't matter how big the vehicle is; what matters is that you have a comfortable place to work in. So when planning the interior, try considering looking for a place where you can put a desk in.
Am I boondocking? If you're going to stay at a few places for a longer bit of time, allot some extra room for building a water reservoir and likely a toilet or shower. You'll need a good place to freshen up if there's no clean river or stream to do it in!
Do I want to be "stealthy?" When it comes to camper van ideas, you may notice that space is a very critical commodity. And you're going to want to have enough of it when you need to preserve vital resources such as food and drinkable water. So instead of installing solar panels and using a typical fridge, use a larger cooler to maximize what little space you have.
Now that those questions are out of the way, let's move on to the specific camper van ideas for designing the interior layout.
Related: What Makes The Best Van For Camper Conversion?
Consider Interior Height Before The Floor Plan
A lot of people think outright that it's always the better option to go for a van where you can stand inside. But while this is an amazing perk on its own, it can limit your options when it comes to camper van design.
There are specific situations where the interior height matters a lot. For instance, if you only plan on camping in typical campgrounds or in National Parks, you'll be just fine with working a lower-height passenger van. But if you plan to stealth camp in cities, you can go for either a low-ceiling or high ceiling and it won't matter much. Though you might have a bit of trouble parking in common spaces with a high-ceiling vehicle.
Here's another thing you should think about: the weather. Anywhere cold, rainy, or hot will make you want to spend more time inside your van. As such, you'll need as much space as you can to feel comfortable. Imagine if you had to sit inside for hours while you wait out the weather to fare better outside. To be truly comfy, you'll need enough space to stand in the vehicle.
Make The Floor Plan Accommodate Your Lifestyle
Are you traveling solo? With a significant other? Or with a group? If so, everybody will need to have a place to slum around in. It's always great to have extra sleeping options, more so if other people plan to join your trips from time to time.

Will you be cooking indoors/outdoors, or both? Ventilation is your foremost concern if you want to cook inside. This should be included in the floor layout.

What type of storage will you use to stash resources like cooking gas, drinking water, cleaning water, and other equipment of the same type? –

You'll still have a few articles of clothing and shoes, despite having downsized as part of your decision to live on the road. But they'll still need to be stashed somewhere! This also includes all your personal items. And how easily accessible do you want all of these things to be? You don't want to tuck them away where it's hard to reach them.
Sketch It Out!
You don't need to be an architect to draw up a floor plan for your camper. So don't be discouraged! All you need to do is take a few pieces of paper and plan out where the fixed stuff is going to be. This includes your kitchen and toilet areas, sleeping quarters, and storage spaces. Also, try to play around with the configuration and see which one works best for your needs.
And to make things a lot easier, draw to scale. Try it like this: 1 inch is 1 foot. That way, it will be easier for you to measure things. You can also try planning your camper interior digitally, using a free program like SketchUp. With this, you will get a 3D view of your floor plan which will be very helpful in terms of visualizing.
Extra Considerations
When looking for camper van ideas that concern the floor layout, don't leave out the windows, of course! Unless you specifically don't want anyone seeing into your van, windows are among the most important parts of a floor layout. It allows you to decide where to put specific fixed areas. For instance, do you want your work area next to a window where you can see beautiful scenery? Or would you like your sleeping area to be there?
Related: RV Living 101: 10 Must-Have Camper Van Accessories
You also need to consider how durable the windows have to be. And that is something we can help you with! Our team of experts here at Peninsula Glass are more than willing to assist you with your camper van window needs. Call us and see what we have in store for you!