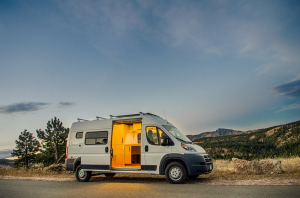 Unlike what many believe, conversion vans aren't delivered to your local dealer from an auto manufacturer's factory. What companies that make conversion vans do is purchase hollowed out vans from a van manufacturer and then use aftermarket parts to deck them out. These conversion vans are then sold to you by a local dealer. No two vans are exactly the same and the process of making a conversion van is a very labor-intensive one. It can take weeks or even months.
A crucial step to van conversion is installing conversion windows. Aftermarket conversion van windows are unlike factory windows. However, you'll find that they're just as strong and aesthetically pleasing as they are made from high-quality parts. These types of windows also allow you greater flexibility. Whether you're converting a Ford Transit or a Mercedes Metris, you'll find a variety of styles and sizes to choose from.
Where to Buy Aftermarket Van Windows
If you're putting together an RV or looking for a replacement for one or more of your van conversion windows, you definitely have plenty of choices. You can buy stock windows from an auto manufacturer or opt to buy aftermarket van windows online.
Ready for your new aftermarket conversion van windows? Get in touch with us for a detailed estimate.