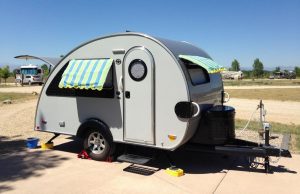 Times have changed. Today, there's not much to do in town because of the pandemic. So you would want something awesome to do. How about buying a travel trailer and going out into nature? But that doesn't mean you can go pack without a travel trailer checklist!
Every smart traveler has one, and they make sure to follow it at all costs. So to avoid forgetting something important, here's a comprehensive travel trailer checklist. Read on!
Attention First-Time Travel Trailer Owners!
If you're a first-time owner of a travel trailer, don't skip this section. These accessories are absolutely essential!
Generator:

It's always good to have a backup power source. There's a reason why generators exist, and why your trailer has enough space for one. Having a generator is an absolute must, more so if you plan on taking extended trips down the countryside. You also might want to think about getting one that's more on the quiet side. Trying to catch sleep with the AC on but the generator is noisy? That doesn't sound fun.

Toilet bowl brush:

The toilet bowl on your camper or trailer is very different from the one in your home. They're often shallower and don't have much water in them. Which means, some things don't go down the way they're supposed to. So for sanitation purposes, you could use a bowl brush to clean it off.

Bedsheets:

Put some sheets on your trailer/camper's beds to bring them closer to home comfort levels. Finding the perfect sheet will ensure that you get a good night's rest!

First aid kit:

Out in the woods, you're far away from any professional medical center. So it's always better to prepare for any eventuality with a stocked first aid kit. Get enough band aids, burn cream, some gauze, etc.

Laundry hampers:

As much as possible, you want to keep your trailer interior clutter-free. So as part of this

travel trailer checklist

, go get yourself some laundry hampers! And it won't only cater to dirty laundry.
Now that these critical essentials are out of the way, let's get on with some more good stuff. The next things you have to know are classified in several categories for easier reading.
Exterior Essentials
Doormat:

You're outdoors. But that doesn't mean your trailer/camper should get dirty from your steps! Placing a doormat on your vehicle's main entrance can help prevent dirt from coming in. Plus, cleaning would be much easier if you don't have to deal with dirt buildup on your floors!

Hammock:

Unless you have a big camper or trailer to accommodate everyone, you'll run out of room for sleeping. You can set up a hammock nearby for a good night's sleep among the stars. Just remember to have something to keep insects off you though.

Portable fire pit:

Do you know how to start a fire with only the most basic materials? If not, then you need to have a portable fire pit. It will allow you to set up a bonfire without much hassle. Cozy nights in front of a fire in the cold of the wilderness; nothing beats the feeling.
Other Essentials
We're not going into great detail on these items, because you should know why they're important. As much as possible, try stocking up on these if you're going on any trip, especially a camping one.
Clothing:

boots, gloves, rainsuit/raincoat, extra shirts, extra socks, sunglasses, slippers, trekking shoes, extra underwear, comfortable pants, sweatshirts, swimming gear

Cooking:

can opener, cooking pot set with lids, sealable storage containers, food chopper/processor, knives, measuring cups, ziplock bags, paper plates, cooking oil, charcoal, lighter, dish detergent, paper plates, trash bags, cutting board, knife sharpener, spices (salt, pepper, etc)
Related: RV Kitchen Essentials Checklist For The Clueless RVer
Navigation:

GPS, Wi-Fi booster, maps

Tools:

Electrical tape, duct tape, pliers, screwdrivers, crowbar, tire inflator, tire patch/plug kit, fully stocked toolbox, hydraulic jack, hammer, allen wrench set, soldering iron, tin snips, spare parts

Miscellaneous:

folding chairs and tables, thermos, insurance information and travel documents (passports, vehicle registration), hatchet, chainsaw, axe, grill, lighter, gas/electric lamp, flashlight, extra light bulbs and fuses, extra batteries, battery-operated radio

Vehicle checks: check your trailer/RV windows to see if they're working, or if they have damage. If there is, stop by at Peninsula Glass to have them replaced or fixed! Also, check your vehicle's engine, wheels, oil, fuel, battery, brakes, lights, and everything else.
Related: Top RV Custom Products Every Owner Needs
Traveling With Pets?
We're going to assume that you're traveling with either a dog or cat. Read on to know what to do before embarking on a trip with your furry friend.
Pack up their essentials.

This includes food bowls, enough dog food for the trip, and some treats. Also don't forget their leashes, toys, and bags for cleaning up after them. You might also want to bring a pet carrier. If you have a cat, don't forget to bring a scratch post and litter box.

For dogs, take them for a long walk before setting off.

They're going to be stuck in the vehicle for a few hours at most, so get them as much fresh air as you can before driving.

Documents:

Make sure that their ID tags and photos are sorted out. Nobody wants to lose their furry companions, but if they do get lost, identification will be a lot easier with their tags.
Related: Ultimate Travel Trailer and RV Maintenance Checklist