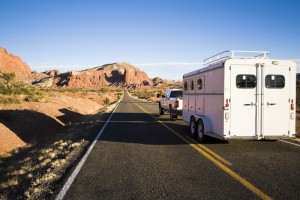 Every business, with enough commitment and resources, will eventually grow. If you're an entrepreneur looking to expand, you will need a cargo trailer. For instance, if you're a handyman with a wide assortment of tools, a simple car isn't enough. You need something much bigger. That's where a cargo trailer comes in. All you need is to hook it up to your vehicle, then drive off to your destination.
But that doesn't mean you're safe from troubles. Case in point: organization. Everything you need inside the trailer must be on shelves. Or else, it will look like a tornado went through it. To keep your vital gear organized, you must look for enclosed trailer shelving ideas. Read on for recommendations and basic installation considerations.
Cargo Trailer Shelving: The Basics
Before installing shelving, you must remember that not all shelves are the same. You can't expect to go pick out a few wood planks and screw them to the walls. All you need from your shelves is one thing: durability.
Case in point, you cannot use wood. The reason is simple: it's not as strong as you think it is. Most cargo trailer shelving ideas barely recommend wood. It bends, warps, expands, and contracts to changes in temperature in humidity.
If you work in a hot, humid environment, there's a good chance that wood shelves will give out. Wood is also quite heavy and when it's weakened, it will buckle under the weight of your equipment. It isn't fun cleaning up after that mess, we tell you that much.
So to avoid that, go for metal. There are pre-built shelves available made of aluminum or steel. They're much lighter and stronger, and will last longer than wood shelves. These options are also purpose-built for industrial shelving applications. Meaning, they can lift heavier than the strongest guy at your gym. The shelves look neat and clean too! Put your vises, grips, heavy-duty tool boxes, and even anvils on these metal shelves and they won't even budge.
Related: 11 Surprisingly Easy RV Organization Ideas
Going DIY
Alright, we get it. There are still people who would want to build their own shelves, and we think that's handy dandy. If you're one of those folks, it can be a good idea. Shelving that you build on your own will fit the specific contours of your trailer, and it will be exactly how you want them. And, if you know where to look for materials, it can be cheaper to build them too.
Going DIY means you're going to have to use wood. If you are, go for something like hickory, which is the hardest available type of commercial wood. Gather every material you need and check out these cargo trailer storage ideas to help guide you on your build.
Stabilize your shelves with brackets.

Take 2×4 lumber and bolt it to the inside wall to act as a stabilizer for the shelves. This is the easiest way of installing shelves because bolts, screws, and washers are easy to find. Remember to choose screws that are about an inch longer than the 2×4's thickness. Install them through pre-drilled holes then bolt them for added stability. Make sure they're aligned, even and are straight.
Go for removable shelves with stamped metal E-tracks.

Removable shelves are a good idea for better organization options. You can remove an unused shelf to store tall equipment like tanks or weighing scales. To make a removable shelf, get an E-track rail, which is a rail that you attach to the inside walls with screws. Then take a shelf you already made and install brackets on each of the bottom corners. This allows it to slide on the E-track.
Vertical E-tracks are great at maximizing space.

Vertical E-track mounts allow you to build shelves with adjustable heights. All you have to do is find these E-tracks, mount 4 of them parallel to each other, then build shelves according to the measurements. Make sure to leave enough clearance between the shelves and the tracks to allow for easy installation and detachment.

Go for more storage options like cabinets, drawers, and storage modules. The shelves are only the beginning. Adding a few more

storage ideas for enclosed trailers

can round out the project and organize your gear even more.
Related: Top RV Custom Products Every Owner Needs
For cargo trailer windows, we're always here to help. Peninsula Glass has been dedicated to providing cargo trailer owners the best windows that fit their needs.