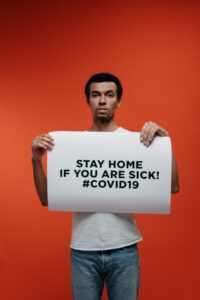 The world is in a rather weird position that it's never seen for over a hundred years. A pandemic is gripping the planet, and it's showing no major signs of slowing down. Billions are in quarantine at home, over 800,000 people dead as of this writing. We never saw this coming, and didn't expect something like this to happen again. A lot of people can agree that living in a global pandemic seemed it would only be real in history books.
But here we are. Case numbers are growing almost every day, and it's tough to stay optimistic. That doesn't mean, however, that we can't try to find ways to make life bearable. At least, several countries and cities around the world have eased quarantine restrictions. Travel to a certain degree is now permitted, albeit with conditions regarding safety.
While travel abroad is still restricted, people can still perform leisure trips. And one such trip is camping. We know what you're thinking: camping during a pandemic? How is that even safe? Well, we'll show you that with careful planning, it can be a good way to shake off cabin fever.
A Closer Look
Camping isn't as popular as some people might think, even before the pandemic began. People would rather go to sports events or theme parks. Or they would spend a few days to weeks overseas, touring several countries in succession. To most, that's their idea of "travel."
A mere 11 percent of leisure travel before the pandemic were camping trips. But weirdly enough, surveys are showing that it will increase to at least 16 percent by the end of 2020. So what gives? Isn't a pandemic dangerous enough to keep people away from traveling outside their homes? In truth, that's not the whole story. And it has everything to do with camping itself.
Low-Risk Outdoor Activity
An article on CNN reveals that COVID-19 transmission risk tends to be lower outdoors. That doesn't say that you can go to a mass gathering with impunity though! It only means that while coronavirus is still out there, you can plan a camping trip. Given that you observe strict safety protocols, that is.
Plus, a closer look at camping as an activity might reveal some clues. Ask yourself this: if you're to plan a camping trip, what are the things that make for a good campground? As much as possible, you would want a spot where you have a good view of nature. That is, you don't want anyone else out there blocking the scenery! You would effectively be doing social distancing, and in a fun, refreshing way too.
A look at specific guidelines for choosing campsites reveals much about how less risky camping is as an outdoor activity. For instance, experts tell campers to choose a spot at least 200 feet away from the main trail and the water. This is to stay out of the way of other hikers, as well as make sure that local wildlife has a clear path to the water. Considering that 6 feet is optimal for social distancing, that will help keep you out of the way of an infection.
Here's another tidbit. Four public health experts from Michigan advised in creating a risk scale of various activities during the pandemic. On a scale of 1 to 10, they rated camping at a relatively safe 3. Golfing and getting groceries are at the same rating. Playing tennis is the safest at a rating of 1, with going to theme parks and gyms at a dangerous 8.
Related: Best Smartphone RV Apps For The Camper Life
A Boom In RV Sales
With the increase of interest in camping, people will want to be prepared. And by prepared, this could mean they'd want a well-equipped RV. As more people look to go out, the RV industry will rebound much quicker than others. More and more people will look to buy an RV so they can have something good to travel with other than their basic cars.
With camping starting to gain traction, this is where RVs come in. It's easy to see why: RVs can transport way more supplies and gear than a typical 4-door sedan, for instance. You have provisions that can last you a few days or weeks. It's basically a mobile home. If you have an RV, camping would be a much easier and more enjoyable activity.
Is Camping Even Safe Right Now?
As long as you follow strict safety protocols, yes. The CDC still maintains that going outdoors is a great way to keep yourself healthy. This includes camping trips. And if you're healthier, you have a better chance against a COVID-19 infection. Before you pack up your tents, though, be sure to prepare at least a few weeks, if not months, ahead! Here are a few tips.
Call ahead and book your campgrounds way in advance. Campgrounds are filling slots fast. This is due to several public grounds being closed amidst pandemic safety measures. Campgrounds are booking below their maximum capacity to limit campers' social contact. In order to keep yourself safe from COVID-19 during your trip, book early! It will save you from disappointment and missing a chance to enjoy the fresh air.

Bring your own sanitation supplies. In a public areas such as a campsite, there's not much in the way of limiting contact with the virus. Stock up on sanitation supplies as you can, but

don't hoard

. Seriously. Buy enough disinfectant alcohol and face masks for your family. You can never be too careful in these times!

Stock up on supplies such as food and drink. You'll have to limit your chances of having to go to a convenience store to buy food for your camping trip. Also, bring your own cooking gear (stoves, pots, grills, etc) and other RV kitchen essentials so you don't have to borrow anything from anyone.
Just to remind you, we're still in a pandemic. So be mindful and considerate about yours and others' health when you go out, so that your camping trip will be a safe and fun endeavor! If you need an RV window replacement before you go on your next road trip, we at Peninsula Glass will be happy to help.