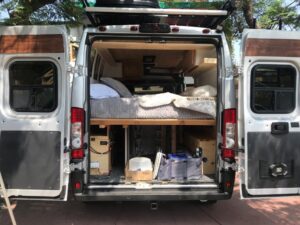 Looking at a trailer van or camper, you might be thinking "I can build that on my own." No need to buy one when you can make one, right? If you have the skills, time, and tools, why not? Building a custom van is a great project. Not only will it test your craftsmanship, but also provide bonding time with your family. It's a win-win if you think of it.
Before you build your own though, you have to be aware of a lot of things. This is to ensure that you don't waste time and resources. For instance, you must ask yourself a few questions like…
Is it hard to build your own camper/trailer? No, because you have a lot of help! There are a lot of plans that you can download online. Or you can browse for an article like this one for extra tips and tricks.
What's a good type of camper to build for starters?

You can build something called a micro camper. It is as its name suggests: it's a small version of a pre-built camper/trailer. They can be as small as a mere 40 square feet.

What tools and skills do I need?

You will need at least a basic level of carpentry and steel working skill. You need to know how to build things, and build them sturdy. If you don't have them, you can learn! There are a ton of instructional videos online that can help you get started.
Which Van Is Right For You?
Keep in mind that when you say "custom van," it doesn't always mean you have to start from scratch. You can take a pre-existing vehicle and convert it into a camper that fits your requirements like a glove. Here are several good starter options to consider, along with their pros and cons.
1. Volkswagen Vanagon
Pros: The Vanagon is an iconic classic. If you're a fan of that kind of aesthetic, why not go for this one? Another good thing about this is that some models may come with a pop top and a pre-built interior. This means you won't have to do much work creating a cozy interior. And last but not least, its reputation as a classic means there's a big community of owners and modders. You'll never run out of ideas on reworking your camper any day!
Cons: When you say "classic," it tends to mean "old." And with old vehicles, parts can be hard to come by, and it might need a lot of repairs along the way.
2. Sprinter Van
Pros: If you want more space than a Vanagon, consider this one to start with. If you have a rather tall entourage, this is perfect for you and your folks! It's a very reliable vehicle with great gas mileage to boot. No need to worry about spending a fortune on gas during a road trip.
Cons: Sprinter Vans are more modern than the Vanagon. They often feature computer-based navigation systems, which are prone to breaking down. And if they do, you're unlikely to fix them unless you're a tech wiz yourself. They're also prone to rust buildup.
Related: 6 DIY Sprinter Van Conversion Ideas
3. Skoolie
Pros: If you really want that full custom experience with tons of space, then go no further than a Skoolie! It is as its name suggests: it's more or less a mini school bus. You have so much more space than you know what to do with, it can get quite overwhelming. But if you put that out of your mind, you have unlimited custom interior options. Nothing beats creating your very own cozy space on the road, with room to spare!
Cons: Because of their size, Skoolies can be a bit unwieldy to drive. You might not be able to get this into tight squeezes, like small campsites. You will need a certain level of skill to maneuver them.
Other Considerations For
DIY Custom Van
Consider your windows.

All good

DIY custom vans

have great windows. When you're on the road, windows are your gateway to the magnificent world you're driving through. Consider upgrading your van windows to ones that can withstand the rigors of nature. Not only will you stay safe, but also comfortable in the great outdoors. If you're not sure where to start, talk to us at Peninsula Glass today.
Related: How Much Does RV Window Replacement Cost?
Install a reliable navigation and communication system.

You can't always rely on your smartphone. That's why we still have radio! You will need something to help you contact anyone in case you get into some trouble. Last, a reliable navigation system is self-explanatory. You want to

explore

, not

get lost

.
Building a customized van can be a great starting point to living on the road. All you need is a certain level of dedication, and you're all set! Daily adventures will be a thing, and you'll get to experience nature in all its glory.