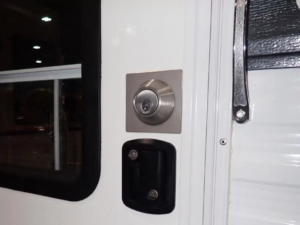 When you're on the road, the last thing you want to worry about is your safety. That's why it's essential to have a lock on your RV door that will keep your belongings and yourself safe and secure. But with different locks available on the market, choosing the right one may be challenging.
This article will help you choose the type of RV door locks and help you decide which one is best for you.
How do RV door locks work?
RV doors are usually steel or aluminum, with a thick layer of glass on top. They can either be sliding or hinged. Some have windows in them, while others may not have any. Some models come with keyless entry systems, which allow you to lock or unlock your RV door from inside the vehicle using a remote control.
You may also choose to have a manual lock installed, requiring you to turn it from inside the vehicle manually. Anyone with access to the key can open this type of door lock but will not allow anyone outside your RV into the driver's cabin unless they know how to open it manually.
Types of RV Door Locks
All of these RV door locks have their pros and cons, so it's essential to choose the one that best suits your needs. Here is a breakdown of some of the most common types of RV door locks available today:
Deadbolt locks are the most common type of RV door lock. They're easy to install and use and are very secure. However, they do require some maintenance because if the bolt gets rusted or bent out of shape, it won't slide into place anymore, which means you'll need to replace it with another one.
This type of lock also requires a key to open and close, which can be inconvenient if you're in a rush or need quick access inside your RV. Lastly, these locks aren't very tamper-resistant since they only use one bolt instead of two like other types.
Keyless RV door locks are a great option if you have quick and easy access to your vehicle. They work by using a remote control to unlock the door, which means there's no need for any keys. This type of lock is also very secure since it has multiple locking points. However, they can be pretty expensive, and installation can take up quite a bit of time if you don't know what you're doing.
A keyed cam lock is an RV door lock that uses a rotating cylinder to open and close the door. They're straightforward to install, as well as being convenient if you need quick access inside your RV because no key is required – turn the knob.
However, they require some maintenance due to their size and weight; it can be challenging to put back in if one falls out of the door frame. They are also not as secure as deadbolt locks because they can easily be picked with a pen or paper clip.
A digital lock is an RV door lock that uses an electronic keypad to unlock the door. They're very secure and tamper-resistant, as well as being easy to use. However, they can be expensive and require some maintenance to keep the batteries in good condition.
They also take a bit of getting used to since you have to enter the code correctly to unlock the door. Lastly, if someone steals your keypad or remote control, you won't be able to get into your RV.
A lever-action lock is an RV door lock that uses a lever handle to open and close the door. They're straightforward to use, as well as being tamper-resistant and durable. However, they can be challenging to install if you don't have any experience installing locks. Also, if you have children around who like playing with door handles, this type might not be the best option for your RV because it can be easy for them to open up even when locked from inside.
How to Choose the Right RV Door Lock?
Many different RV door locks are available on the market, so it can be challenging to decide which one is right for you.
Here are a few things to consider when choosing an RV door lock:
How secure do you need your door lock to be? Deadbolt locks are the safest type of lock, while keyed cam and digital locks are less secure.
How easily do you want to unlock your door? Keyed cam locks and digital locks are the easiest to open, while lever-action locks can be a little bit more complicated.
Deadbolt locks require some maintenance, while keyed cam locks and digital locks don't require any at all.
How much money do you want to spend on an RV door lock? Keyed cam locks are the least expensive option, with deadbolt locks being more costly than those but less so than digital or lever-action ones.
All types of RV locks are typically made from steel, but some may have additional features such as weather-resistant finishes or decorative coatings on them. You also have to check their thickness and thinness when checking for the materials. If it's too thin, it won't last long and might break or get damaged easily; if it's too thick, its weight may make installation difficult.
All types of locks are designed with security in mind, so they should last a long time without needing any repairs. However, they can still get damaged over time if not properly managed, especially if left outside in the elements all year round.
When choosing the right RV door lock for your vehicle, there are many different factors to consider. However, by considering the things listed above, you can find the perfect lock that best suits your needs and security requirements.
When it comes to your RV, you want the best protection possible. That's why we offer expert help and guidance for choosing hardware that will keep you and everything inside safe.
Contact us today and let our team walk you through this process of finding door or window replacement, including parts and locks, to rebuild and secure your vehicle.
Call RV Windows at (360) 944-4446, and allow us to provide you with a quotation!