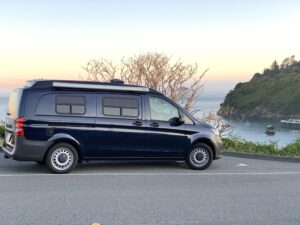 For people who want a camper van for relatively cheap, a Mercedes Metris conversion project is the way to go. Instead of buying a full-fledged camper van or RV, why not convert something smaller and more affordable, right?
But before you get right down to business, you have to know certain things first. This is to make sure that the project goes as smoothly as possible, if anything else. So read on!
Why Should You Get A Metris In the First Place?
The Mercedes Benz Metris seems a bit unassuming on the outside. But there are a good amount of features that make this the perfect candidate vehicle for a camper van conversion. Here are six of them:
Safety:

You can be assured that the Metris is one of the safest cars in its class, and it's without question. Mercedes itself is known for their excellent build quality, which they partner with several additional safety features. For instance, the Metris always comes with features such as a rearview camera, a crosswind assist, driver attention assists, and adaptive stability. There's also rescue assist, alongside other optional safety add-ons to ensure a smooth and safe ride. Also, the van's low profile of the van adds up to the safety even more.

Space:

What's a camper van without space? With the Metris, you get plenty of room to modify the interior to your needs and wants. The high roof is an excellent perk, which allows for extended vertical storage should you need it. There's also an option to go for a pop-top roof, which adds a lot more height. With all that space, you're not likely to run out of areas to build your shelves and storage in.

Towing power:

The Metris does have a good amount of space, but it can't really hold everything you need. Thankfully, it also tows like a champ! You can tow as much as 5,000 pounds with the Metris without any hassle. So if you have some extra toys like a jet ski, a boat, or even something like a full-size Airstream trailer, you'll have no problems.

Extremely convenient back doors: Ease of access is what you absolutely require from a camper van, let alone a camper van conversion project. Which is good because when purchasing a new Metris, there's an option for a single top-hinged liftgate, or two side-hinged rear doors at the back. What's even better is that if you go for the liftgate option, you can use the panel as a sunshade, an awning, or even a full rear window when driving. Either way, moving things in and out of the back has never been easier. (Related: Van Window Installation Guide)
Drive quality:

We saved the best for last. The Metris' drive quality for a camper van is almost second to none, and that's an understatement. Since the majority of living on the road involves driving on varying terrain and destinations, a vehicle that maneuvers and functions well in all conditions is not only desirable: it's essential. The Metris' 7- speed automatic transmission allows the van to go 0 to 60 in 8 seconds. And it's incredibly fuel-efficient too, at an average of 22 miles per gallon.
Related: Tips & Tricks: DIY Sprinter Van Conversion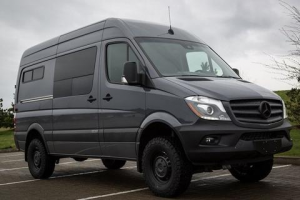 A Few Concerns
RVs/camper vans have come a long way since their early years. Nowadays, these vehicles feature a host of advanced navigational technologies, as well as entertainment features. The only knock about the Metris is its lack of these modern tech.
Instead, Mercedes implemented a relatively old system which features a tiny 5.8-inch screen. You'll likely struggle using this, especially when driving. It also runs an outdated Command system with a lackluster navigational interface. Though if you have an Apple or Android device (which you do), then you won't be running out of options that much. And you'll also bring your own GPS device.
Related: Best Smartphone RV Apps For The Camper Life
So there you have it. Aside from a lack of modern technological amenities, the Metris is basically a perfect candidate for a camper van. If you're planning a Mercedes Metris conversion project one of these days, you won't have too many problems. And when you get to the van conversion windows part of your project, don't hesitate to give us a call at Peninsula Glass!