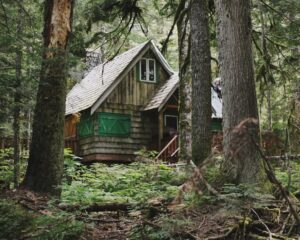 When somebody Googles "how to live off the grid", they're essentially trying to go back to a time when our ancestors didn't have modern technology to augment their lives. There is a unique type of beauty and splendor in living the so-called "unplugged" life, far from the creature comforts that modern society brings.
But what does living off the grid entail, exactly? What are the untold stories and hard truths about this lifestyle? Today, you will read about this very concept, and why it might (or might not be) meant for you.
What Is Living Off The Grid, Exactly?
There are so many definitions of the term "living off the grid." A lot of people define it in two ways. One, as an act of reducing their carbon footprint. Two, as a way of taking themselves out of the expense of fixed utilities (i.e. electricity, water, etc). In the United States alone, there are around 300,000 people living off the grid. Most of these people live in far-flung areas too far away from utility connections, meaning technically they don't have a choice but to live such a life. Others, on the other hand, make a conscious choice to reduce their utility usage and expenses.
If you want to learn how to live off the grid the right way, you need to understand a few concepts first.
The Advantages Of An Unplugged Life
Smaller environmental footprint

– It's no secret that the Earth is reeling from all the pollution that modern technology is causing it. So for those who want to live a more environmentally-friendly existence, off-the-grid-living is a perfect choice. You will typically live in a much smaller home, which tends to consume less power. And the good thing is, the environmental footprint can be a lot smaller if you're using renewable energy sources and do things like grow your own food.

Better mental health

– A fast-paced, technologically dependent world often means people have no time to slow down and focus on their mental health. Instead of actually living in comfort, people on the grid tend to be more anxious and depressed. This isn't often the case with off-the-grid-living. Without monthly bills to pay and a relatively slower-paced lifestyle, living removed from society can actually lessen stress and anxiety levels.

Better physical health

– By now, you should know that a life of being stuck at a desk and watching television on the couch is not a healthy lifestyle. That's not the case with an unplugged lifestyle. More often than not, you walk instead of driving. You grow and cultivate your own food. You move way more, which means you get an ample amount of exercise each and every day. That certainly beats having to pay a monthly membership at a gym, doesn't it?

Greater personal satisfaction

– There is something psychologically empowering about the ability to make do with what you have and solve problems on your own. Learning

how to live off the grid

means you'll be making a lot of things with your own hands. Skills like carpentry, meat curing, and food cultivation are a few things that many people find satisfying and intellectually refreshing.
The Holy Trinity Of Living Off The Grid
If you're convinced that living off the grid is the thing for you, this is where it gets real. Selecting a place to stay will require you to look for three specific things in order to survive. Without these, you will fail. So here we go:
Water

–

On the grid, you don't have to worry about getting water. Off the grid, it's obviously not the case. You're on your own. You have various options of bringing water on site, like digging a well or harvesting rainwater. You won't get far without clean water, so find a way to source this precious resource before even moving in!

Food

–

When you go off the grid, you choose to live off the land. You're no longer a citizen of the modern world, but a farmer and hunter-gatherer, much like your ancestors. You will need to learn skills such as hunting, fishing, farming, gardening, and composting, among others.

Shelter

–

If you're not protected from the elements, you won't make it far into living off the grid. So when trying to find where to settle down in the wild, make sure that it's durable, sustainable, and secure. Aside from wind, rain, and extreme heat and cold, you will also need protection from wild animals and possible intruders. All of these things apply to living in an RV as much as it does living in a fixed place.
Are You Actually Ready To Unplug Yourself From The World?
This is a really big question to ask yourself. There is a reason that billions of people still prefer the creature comforts of modern society.
If the concept of this lifestyle scares you, why not try living in an RV instead? Here at Peninsula Glass, we might not be experts on how to live off the grid, but we are experts in keeping RV windows prepared for anything that Mother Nature throws its way.