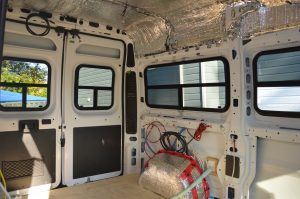 It is possible to get a replacement conversion window for your van. It doesn't matter if you own a Sprinter van or a Ford transit van, sure there are RV windows that would fit your van. These windows are usually a combination of glass and aluminum or fiber depending on the material the frame is made of.
A broken van window would need to be replaced but there is a lot of work involved in replacing a window for your conversion van. Finding a good replacement would cost you as the windows differ depending on the type of material used.
Not all glass can be used on a van so you want to get the specific replacement that would serve your purpose. The measurement of your window is an important piece of information as not all windows are made with the same measurement.
Finding the Right Van Windows
The best way to ensure that you get the right aftermarket conversion van windows that would fit your van would be to get the measurement of the window and if possible get the exact type of glass that was installed before. This can be difficult if you are looking to install the window on a van that is relatively old.
You would find aftermarket replacement but would need to ensure that you get it right to save you the additional expenses when things go wrong. Depending on the number of windows you want to install, you can get aftermarket replacement from online stores and shops near you.