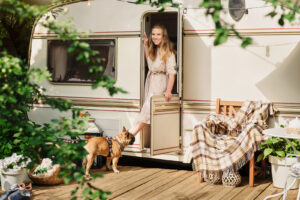 Entering the campervan world is not as easy as buying an RV, whereas an RV has a fixed price compared to campervans. However, campervans are cheaper to travel with; while getting the same traveling experience as an RV. Keep reading to find out what you need to know in converting an empty van into a campervan and how much it costs.
SO, HOW MUCH DOES IT COST TO CONVERT A VAN?
The answers are different, but generally, converting a van starts at $30,000 if you want it professionally made. The cost varies because different factors affect the price, like conversion van accessories and more. Here are the factors that will have a significant impact on your van conversion cost:
Materials and Equipment
Campervans need various equipment like beddings, cabinetries, windows, insulation, and more to make the van feel homier. However, van conversion companies don't offer all the equipment in their shop. Usually, they outsource such materials from other stores—the reason why the price is a lot higher than buying it directly.
Monitor the materials needed for conversion, or if you can, provide the materials you prefer if you want to lessen the cost. Just make sure to pick the materials that are known for their quality.
Check out Peninsula Glass' Motion Windows for durable van conversion windows. In addition, we offer windows that are available in different styles and finishes.
Van Conversion Service
No matter how you reduce the cost of the materials and equipment for your van, labor will always play a huge factor in the overall van conversion cost.
Professionals will set up your van's electrical outlets, plumbing, and all other installations to turn your van into a mobile home, so allocating the budget mostly on labor is only fair.
WHAT TO CHECK WHEN BUYING A VAN TO CONVERT
Buying a used van would cost around $3,000, which is way cheaper than buying a new van that starts at $30,000. But before you make an impulse buy from any seller, here are a few things to check to make sure that you're paying for a quality van:
DOORS AND LOCKS

– Check if all the doors lock, open, and close as they should.

MILEAGE

– To see how long the van had traveled with the previous owner.

SEATBELT

– If there are wear and tears in any seat belts, it could indicate that the van was either used for long or had been in an accident. Make sure that the seatbelts lock correctly too.

SIGNAL LIGHTS

– Test if the headlights turn on correctly and if the rear lights indicate the right signals.

RUST

– Check the whole van, especially in the undercarriage, if there are any major rust spots.

AC AND HEAT

– Turn the cooling or heating system on at full blast to see how well it still works.

DURING TEST DRIVE

– Check if the van runs properly during your test drive. See if it has good brakes, and watch out for any unusual noise from the engine or in any parts of the van.
THE BEST VANS FOR CONVERSION
Now that we've taken a look at how much does a van conversion cost and you're all set on buying a van, here are three of the best in the market for van conversions today:
Mercedes Sprinter
Possibly a top-tier model for van conversions today, the Sprinter packs the power, durability, and excellent space, making it one of the preferred vehicles for many van conversion companies.
The Sprinter has been in the market for a long time, and it's now available in different sizes. It even has a 4×4 option, and it comes with a diesel engine, which is great for gas mileage.
Finally, one of the best features of the Sprinter is its versatile exterior design, which can blend perfectly both in urban areas and in the camping grounds.
Ford Transit
The Ford Transit is slowly becoming a go-to in the campervan world, mostly because of its popular commercial use and budget-friendly price.
Of all the three vans in this list in the market today, the Transit offers the highest floor-to-ceiling height, providing more room for interior customization. Plus, with the Transit's excellent shape design, it's easier to add panels and other features inside.
Ram Promaster
The Ram ProMaster is possibly the most spacious van compared to other vans in the market today. With various length and height options available, the ProMaster is one of the perfect models in the campervan world to accommodate any customization build.
Plus, with front-wheel drive, this van can perform well on the road.
CONCLUSION
If you're asking how much it costs to live in an RV or a campervan, expect it to be a bit pricey, but the adventures you'll have and the memories you create with your family while traveling will be worth the price.
See Peninsula Glass' Motion Windows for stylish yet durable van conversion windows. In addition, we offer quality customized windows for the hottest van models today like the Sprinter, the Transit, and the ProMaster.